GMMK PRO features and specs (Layout)
GMMK PRO features and specs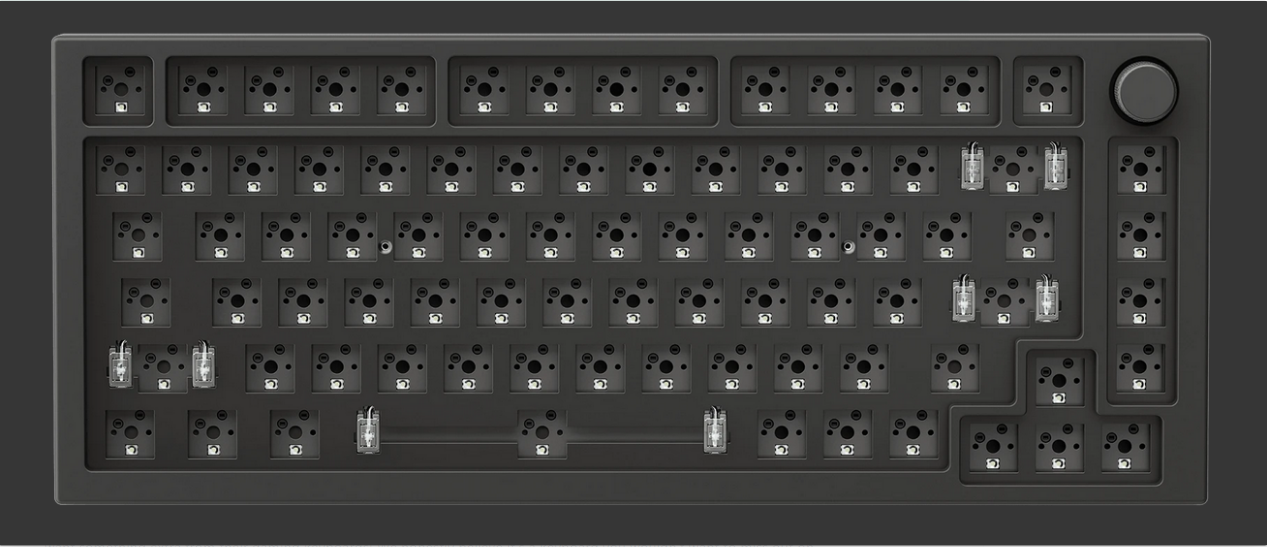 GMMK PRO Features:
The GMMK PRO is a premium, gasket-mounted 75% keyboard built for enthusiasts, gamers, and professionals. 
The GMMK PRO will come with the following features:
 

75% keyboard layout

Removable USB-C cable
The GMMK PRO will have a gasket mounted plate, which naturally dampens keystrokes for a unique haptic and acoustic experience. 
Gaskets around the case securing the switchplate will use something similar to poron / sorbothane. 
Aluminum plate by default.
A Brass plate available at launch. 
A Polycarbonate plate available at launch. 
Sound dampening will be provided under the switch plate and PCB (can be removed).
125 Hz, 250 Hz, 500 Hz,1000 Hz (default polling rate).
The polling rate is saved onto the firmware.
3 available profiles for users to save their settings.
Each profile has 3 layers.
Each layer can have different key assignments (including macros)
The lighting effect for each layer will be the same as the effect for the profile the layer belongs to.
Profile size: 60 KB per profile (20 per layer).
Fully Programmable Knob (clickable).
Controls Volume & Media by default.
Additional knobs will be available in the future.
Unlimited rotation in either direction.
Factory Lubed with G-Lube and Cut, Screw-In Stabilizers.
Stabilizers have transparent housings.
Kits will be available for purchase separately (unlubed) in a variety of colors.
Compatible with QMK & VIA opensource firmware.
GMMK PRO ships with default firmware.
Also compatible with easy-to-use Glorious Core software.
Fully modular, hot-swappable to easily add and remove your favorite switches.

Supports Plate and PCB Mounted Switches.

Supports Clip-In or Screw-In Stabilizers.
Regarding Durock / Zeal / 3rd party stabilizers: Regarding other brand stabilizers support, most 3rd party stabilizers will fit fine on the aluminum/pc/brass plates. However, there is a tolerance issue on certain brands such as Durock. Aluminum and PC will fit fine, but require some force. For brass, you must file off a bit from the side stab housing for them to fit. We are of course looking into solutions to make these stabs fit better for future batches as well.
Right Shift key is 1.75u.

Spacebar is 6.25u (7u Supported)

Our Standard and Aura Keycaps are not compatible with the GMMK PRO.
Individually Machined and Engraved.

Aesthetic High-Profile Frame.

High Quality Aluminum (6062).

Comes in Black Slate or White Ice (Anodized like the GMMK 1).

Weight: ~3.5 lbs or 1.6kg.
Dimensions: 332mm x 135mm.

Typing angle is 6° and has no case legs.

Has 4x rubber feet at the bottom.
Elegant programmable side lighting.

Multiple color modes and animations.



Includes RGB and a diffuser to help blend the LED lights for the soft glow.

The caps lock key is implemented with the side lights. No dedicated indicator.



Length: 6ft (Black cable for Slate Black or White cable for White Ice).

The USB port has a separate PCB which is connected by a wire to the main PCB.



Basic switch puller (Stainless Steel).